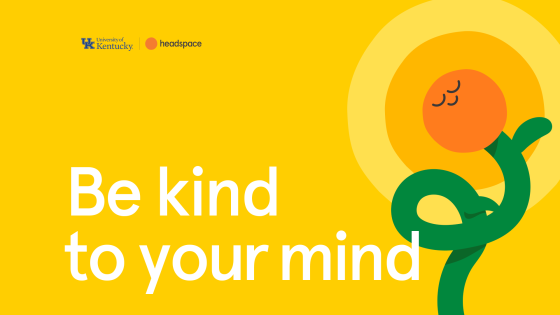 Headspace
Find a happier, healthier you with Headspace
Through a new partnership with Headspace, students, faculty and staff will have access, at no cost, to the entire Headspace library.
Meditation and mindfulness have been shown to help people stress less, focus more, and sleep soundly, and Headspace is your personal guide. With hundreds of guided exercises for meditation, sleep, focus, and movement, Headspace will help you start and end your days feeling like your best self.
Hours of Operation
24 hours a day, seven days a week
Here's what you'll get when you sign up:
Guided meditations for stress, focus, productivity, and more
Sleepcasts and bedtime audio for restful nights
The Wake Up: bite-sized videos for daily inspiration
Focus: music and meditations designed to get you in the zone
Move Mode: quick workouts and guided cardio for body and mind
Get Started Today
Clinically validated research shows that 30 days of meditating with Headspace can reduce stress by a third.
Students
To begin a membership, students can sign up through the Student Government Association.
Employees
Employees can begin their one-year membership through the UK HR Health and Wellness department.