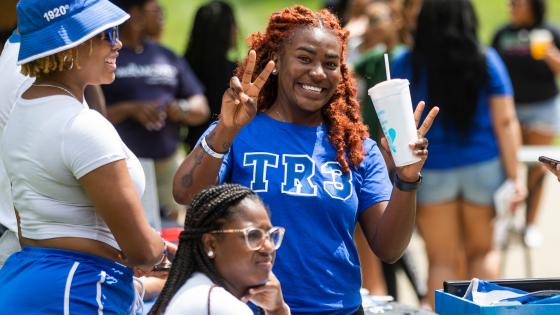 All chapters at the University of Kentucky are all members of governing councils, which help coordinate recruitment activities, educational and community service programs, and assist with communication between groups.  
The councils - Interfraternity Council, National Pan-Hellenic Council, Panhellenic Council, and the United Greek Council - are led by students and advised by members of the Fraternity & Sorority Life staff. Below is information about each council, and contact information for the student leaders.  
Interfraternity Council
The Interfraternity Council is the governing body for 20+ men's fraternities at the University of Kentucky. IFC works with member chapters to coordinate programs and activities that benefit the members, as well as advocate for the needs of fraternities at the University of Kentucky. The council is led by a 10-person executive board that is elected by the chapters each November. 
Joining an IFC organization is a great way to get involved on campus and continue pursuing high academic performance and service to the community. Interfraternity Council chapters participate in a formal recruitment at the start of each semester. Additionally, many groups will extend membership bids throughout the semester. 
Contact IFC at kentuckyifccontact@gmail.com. 
National Pan-Hellenic Council
The National Pan-Hellenic Council at the University of Kentucky is the coordinating body of eight of the nine historically African-American fraternities and sororities, sometimes known as the Divine 9. NPHC works with member chapters to provide educational and cultural programming for the University of Kentucky and Lexington community. These programs focus on topics ranging from spirituality to Black History Month celebrations to community service projects in the Lexington area. 
NPHC's signature program is the Annual Homecoming Step Show, which is held the Friday of Homecoming Week each year. 2017's show included performances from seven chapters and sold over 1,400 tickets to alumni, students, and community members.  
Individuals interested in joining an NPHC fraternity or sorority should start by learning more about each organization. NPHC organizations take new member classes, also known as lines, through a process called membership intake. Membership intake is organized by each chapter independently and at different times during the academic year. 
Contact NPHC: uky.NPHCpresident@gmail.com  
Panhellenic Council
The Panhellenic Council is the governing body for 15 National Panhellenic Conference sororities and 1 associate member group. Panhellenic is led by an Executive Council of 18 women who work with member organizations to coordinate leadership, service, and recruitment activities for the members. 
Panhellenic sororities are organizations of committed women who work diligently to provide support to their national philanthropies, the academic efforts of their members, and the University of Kentucky community.  
Panhellenic organizes a primary recruitment each August for the 15 National Panhellenic Conference sororities. Primary recruitment is a mutually selective process that is designed to maximize the number of women joining sororities each year. Women participating in recruitment should register in advance and will receive an informational booklet in June that includes information about our chapters, recruitment, and how to register. 
Visit the Panhellenic Council Website
Contact Kentucky Panhellenic at uksorority@uky.edu
***Associate member organizations do not participate in formal recruitment, and host recruitment on their own schedule.
United Greek Council
The United Greek Council is the newest governing council at the University of Kentucky and currently includes six chapters. The United Greek Council (UGC) was established in the Fall of 2014 to be a governing body for special-interest and culturally based fraternities and sororities at the University of Kentucky. UGC is led by an Executive Board of four officers ho work to coordinate with the member chapters to plan social, educational, and service programs for their members and the campus community.  
UGC's primary goal is to be welcoming and growth-oriented. The council works towards these goals by focusing on collaboration within the council and between the council and other student organizations and fraternities and sororities on campus. They seek to be a resource for students wishing to start new chapters of special-interest or culturally based national fraternities and sororities on the University of Kentucky campus. 
The current member organizations of UGC are Kappa Beta Gamma, a social sorority, Sigma Phi Lambda, a Christian sorority, Sigma Lambda Gamma Sorority, Inc. a multicultural sorority, Theta Nu Xi Multicultural Sorority, Inc., a multicultural sorority, and Beta Upsilon Chi, a Christian men's fraternity. These organizations conduct recruitment independently; however, UGC hosts an annual Open House program each semester to meet members of the coalition, learn about each chapter, and hear about their plans for recruitment that semester.   
Contact UGC at uky.ugcpresident@gmail.com.