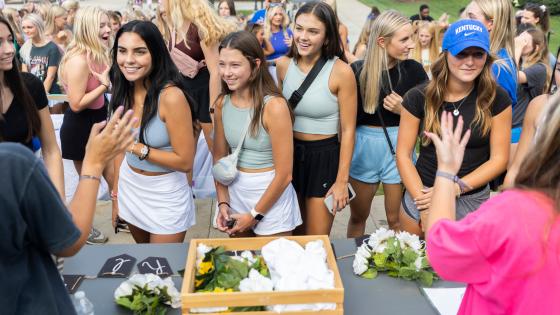 Students may look to parents and family members for support during college, and their involvement in a fraternity or sorority is no exception to this. Parents and families have an opportunity to connect with staff are always welcome to call, email or visit the FSL office to get any questions answered.  
We also encourage you to get involved in your student's experience within the FSL community. Many fraternities and sororities have activities during family weekend as well as Mom's & Dad's clubs for the parents of their members. 
First and foremost academic success is a top priority for Fraternity and Sorority Life. Most Greek letter organizations require minimum GPAs for members. As a supportive parent or family member encourage your student to make their academic achievement the focus of their time at the University of Kentucky. 
As a member in the FSL community, your student will have financial obligations. In addition to the FSL fee, each chapter has required dues. Dues vary from organization to organization, but average costs are listed below.  
Interfraternity Council Fraternities: $750 first semester, $700 out of house, $3000 in house 

National Pan-Hellenic Council Fraternities and Sororities: $1200 first semester, $75 remaining semesters 

Panhellenic Council Sororities: $1000 first semester, $750 out of house, $3500 in house 
Associate Member Sorority: $300 first semester, $250 remaining semesters 
​United Greek Council Organizations: $500 first semester, $250 remaining semesters  
Hazing is a direct violation of the student code of conduct at the University of Kentucky. If you or your student suspect hazing is occurring submit a report through the Incident Reporting Form.