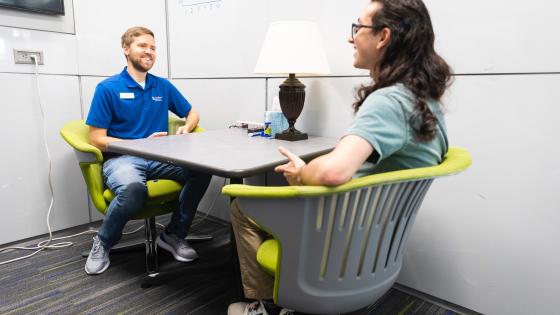 Individual Coaching Appointments
Integrated Success Coaching
What can I expect?
You can expect to leave each coaching session with a personalized action plan around topics such as goal setting, time management, study strategies, getting motivated, and stress management. Our coaches specialize in Academic Life Skills, Careers, Finances, Leadership, Identity Needs (i.e., ADHD, First Gen), and Wellness so you can meet with someone that best fits your needs.
Coaches meet with both undergraduate and graduate students. Make your appointment today and start living your best college life!
Examples of what you can work on with a coach:
| | | |
| --- | --- | --- |
| Goal Setting & Tracking | Identifying Resources | ADHD Strategies for College |
| Managing Stress | Time Management | School/Life/Work Balance |
| Increasing Motivation | Building Academic Confidence | Learning to Hold Yourself Accountable |
| Decreasing Procrastination | Study Strategies  | Improving Wellness |
| Test Preparation | Improving Habits | Note-Taking |
Location
The Study Central @ The Boone Center
The Study North @ Jewell Hall
B-24 in The Hub @ W.T. Young Library
Hours of Operation
Appointments are available first come, first serve: 
Monday - Thursday: 9:00 a.m. - 9:00 p.m.  
Friday:  9:00 a.m. - 4:00 p.m. 
Saturday: Closed
Sunday: 4:00 p.m. - 8:00 p.m. 
Meet our coaches
We strive to provide the highest quality coaching to our students. That is why all of our coaches are certified or seeking certification by the International Coaching Federation (ICF). The ICF credential is the only globally recognized professional certification.  All of our coaches complete the University of Kentucky's ICF accredited 60-125 hour training, hundreds of hours of coaching and continuous mentor coaching to maintain their ICF certification.
How to make an individual appointment
You can make an appointment by:
1. Sign in to your myUK account.
2. Click on the Student Service tab.
3. Under myInfo, click the Integrated Success Coaching link.
4. You can book an appointment two ways: 1.) click "First Available" by location or 2.) click on the coach that you want to book with.
Having trouble making an appointment? Request Help Making an Appointment
How should I prepare for a coaching appointment?
If you are meeting with a coach virtually:
Be in a quiet, distraction-free place.  We talk about grades and academics often during coaching sessions, and that information is confidential.
We ask that you meet inside.  When students meet virtually with us outside, wind, noise, and other distractors make it difficult to hear.
Keep your camera on if possible. Both students and coaches get more out of a session when the camera is on.
If you log-in and you are not in an appropriate place for a coaching session, your coach may ask you to reschedule. 
For both in-person and virtual:
We are often booked several weeks in advance.  If you cancel or no-show, you may not be able to get back in for several weeks, so be on-time and cancel only if absolutely necessary. 
Are you a student having trouble making an appointment?
Coaching is a very popular service and appointments typically book at least two weeks in advance.  If you try to schedule and can't find an opening or are having trouble making an appointment for any reason, please contact us and we will get back to you via email, call, and/or text within 2 business days.
Are you a faculty/staff member who would like to refer a student to coaching?
Do you have a student you think could benefit from coaching?  Let us know!
Are you looking for group coaching?
Faculty, staff and student organizations can request group coaching sessions.
Are you looking for coach training?
We provide Integrated Success Coach Advocate (ISCA) training for UK faculty, staff and student groups who want to learn foundational coaching skills.
What do students have to say about coaching?
Meeting with a coach was one of the most helpful things I've done in college.
This meeting was very helpful in motivating me to be a better student and a better version of myself.
Learning how I study best with my coach has given me the confidence I needed.