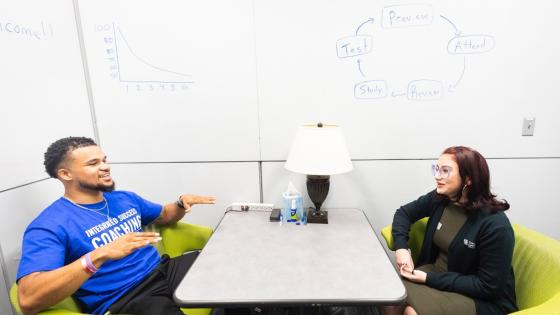 Integrated Success Coaching
What is Integrated Success Coaching?
Our goal is to help you reach yours!
The mission of each Integrated Success Coach is to partner with you, the student, to inspire you to maximize your potential. Our coaches will support you, challenge you and hold you accountable in all aspects of your college life.
You can expect to leave each coaching session with a personalized action plan around topics such as goal setting, time management, study strategies, getting motivated, and stress management. Our coaches specialize in Academic Life Skills, Careers, Finances, Leadership, Identity Needs (i.e., Neurodivergent, ADHD, First Gen), and Wellness so you can meet with someone that best fits your needs.
Make your appointment today and start living your best college life!
for students on academic probation who met with a coach at least once
Make an individual coaching appointment
Undergraduate and graduate students can learn how to make an appointment with a coach.
Request group coaching
Faculty, staff and student leaders can request group coaching for their class, meeting, or event.
Sign up for coach training
UK faculty, staff, and student groups can sign up for or request Integrated Success Coach Advocate Training.
Who are our coaches?
We strive to provide the highest quality coaching to our students. That is why all of our coaches are certified or seeking certification through the International Coaching Federation (ICF). The ICF credential is the only globally recognized professional coaching certification.  All of our coaches complete the University of Kentucky's ICF accredited 60-125 hour training, hundreds of hours of coaching and continuous mentor coaching to maintain their ICF certification.
Academic Life Specialists