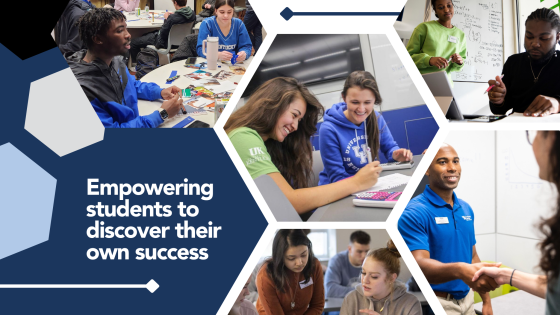 Transformative Learning
UK's Centralized Learning Center
Welcome to Transformative Learning
Transformative Learning (TL), housed in the Office for Student Success, is a centralized student support unit on campus, a student's one-stop shop for on-campus academic resources.  
Throughout the Wildcat journey, Transformative Learning is here to support every student by providing student-centered academic services. Whether they are seeking guidance on improving time management skills, feedback on a paper, or tutoring in a math class we are here to meet them at whatever stage they are at! Transformative Learning knows how challenging (and rewarding) college life can be, so we have built our programs and services to better equip students to meet those challenges and reach their goals.  
Transformative Learning is a partner students will be able to count on as part of their Wildcat support team! We want to make sure all students have the tools they need to be successful. 
Transformative Learning is a very open and adaptable resource that prioritizes all students, making sure that their academic and personal lives are attended to.

Co-requisite coursework to support students in college readiness.
For incoming students who have not yet met statewide minimum test score or high school GPA requirements for college readiness.
Develop your academic skills, build lasting relationships, and become a better Wildcat!
Supports incoming Wildcats with unweighted high school GPAs below 2.49.
Create a personalized action plan around topics such as time management, study strategies, & getting motivated.
UK faculty, staff and student leaders can request a group coaching session for their class, meeting or event.
UK faculty, staff, and student leaders can gain foundational coaching skills.
Undergraduate and graduate students in STEM fields can recieve training to coach high school students interested in STEM.
Structured study group facilitated by peer tutors at The Study for several of the largest Common Hour Exams
Free peer tutoring for communication and composition assignments in any form for any course.
Weekly, peer-led group study sessions designed to support students enrolled in some of UK's most challenging courses.
Free, Drop-in, Group tutoring for many 100 & 200 level math, science, & business courses.
Kick start your studying for the GRE with this 2.5 hour workshop.